News 2008
30-11-2008
Winnershow Amsterdam (NL)
The Winner Show in Amsterdam is the greatest in the Netherlands with almost 5000 dogs and many visitors and dogs from abroad.
My dear Saluki Desert Queen El Gisou, 11 years old, put up a great show this year.
She got First Excellent and Best Veteran of the Breed and a very good report without any fault.
The last words of the Norwegian judge are: 'Happy enjoying her day out and the showring. She's enjoying her life!'
Godeliefje´s lovely daughter Gentille Godelieve El Gisou, 6 years old, was given a high placing with Second Excellent in her Class of 9 bitches. The severe judge has qualified only two bitches with Excellent.
In her report it says: ´Elegant feminine bitch of very pleasing type and quality!´
---
02-08-2008/03-08-2008
Donaueschinger (DE)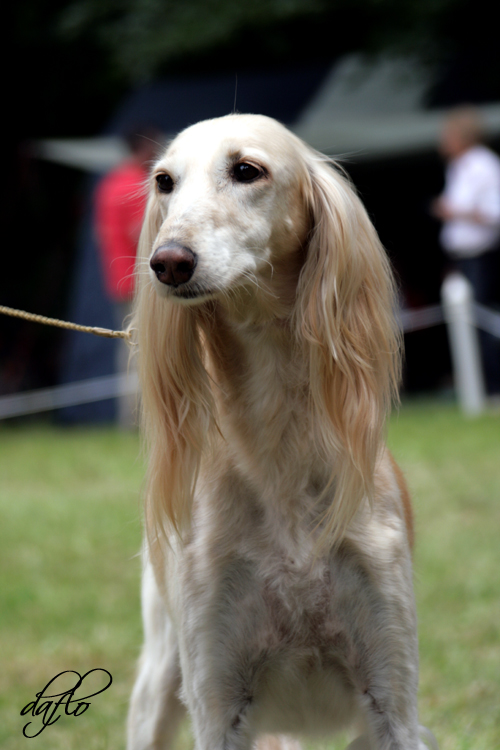 Godeliefje with two of her daughters in Donaueschinger Germany. She won two times Vet CAC. I am very proud to show her reports:
Peer Lundström Sweden
Eleven years old beautiful lady with her own mind, moves ex. when she wants, ex. head with dignifiingy expression, very good angulation in front and rear, well developed brisket, nice sizzling, ex. feet.
Bitte Ahrens Italy
Eleven years, wonderful bitch of ex. type, congratulations to the owner for the well capped old lady, beautiful head and expression, lovely neck, corr. front and feet, nice top-and underline, strong corr. angulated rear, moves typical and with good reach for her age, sound coming and going. A lovely bitch.
Galifa was second and third in the Champion Class. Gentle was not placed in the open class with a high entry of twenty Salukis.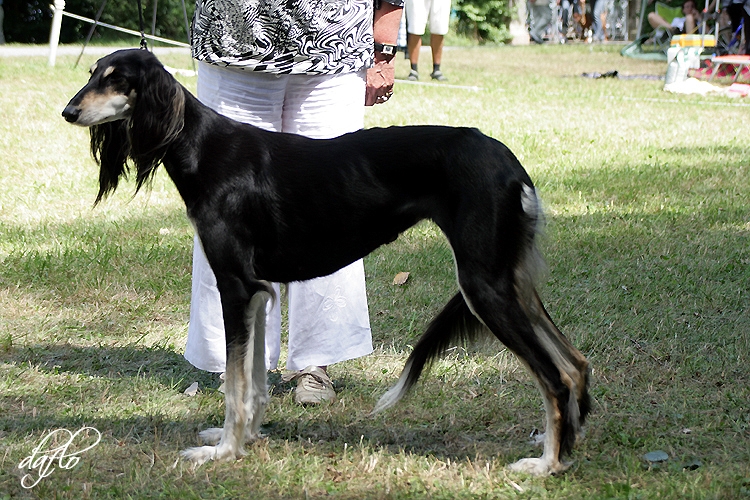 ---
21-06-2008
Clubshow Lelystad (NL)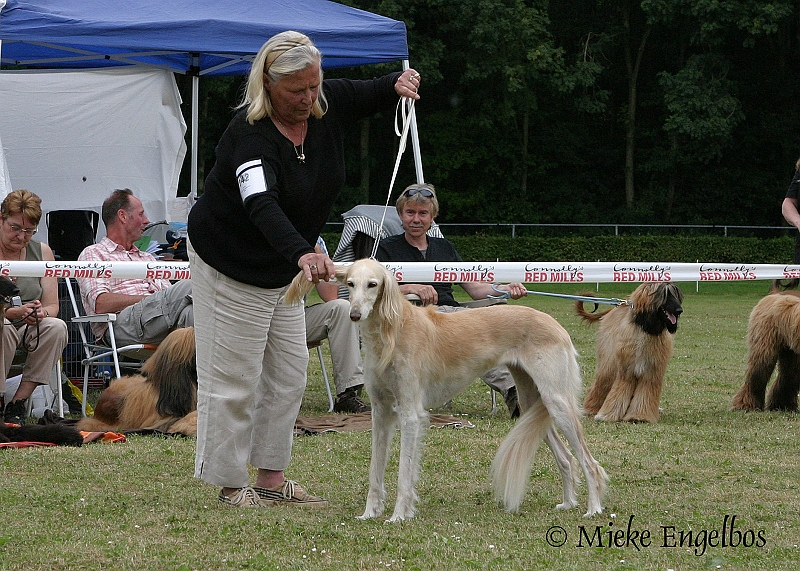 Champion Godeliefje, almost 11 years old, won the first place with Excellent in the Veteran Class. As a typical Saluki she still loves to be on the desert in our neighbourhood and she is in a good condition as well.
Desert Queen is her official name and she really is a QUEEN.
Gentle was third in the Breeders Class with Excellent.
She is a mature, lovely, elegant female and still her mother's and my darling.
---
26-04-2008
Godeliefje and Gentle take a break on their favourite place, the vast desert of Europe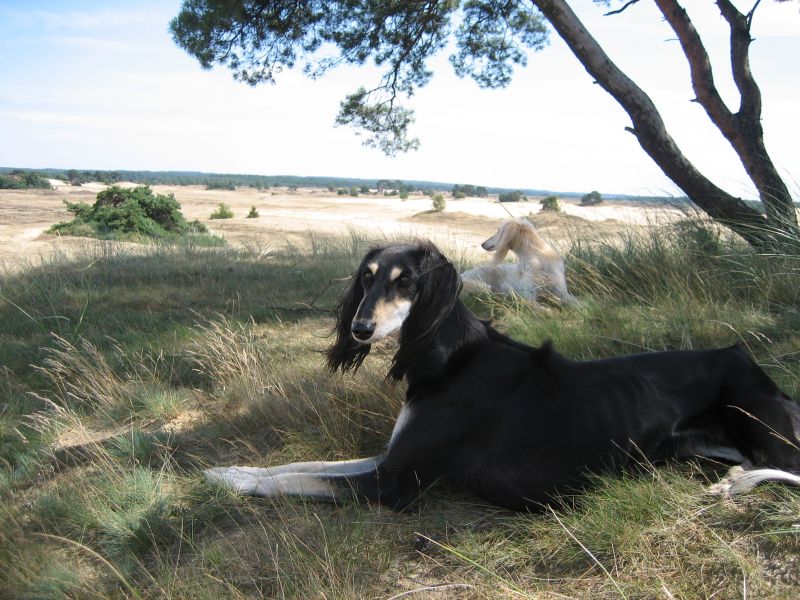 ---
15-03-2008
Offenburg (DE)
Lehzael BOB puppy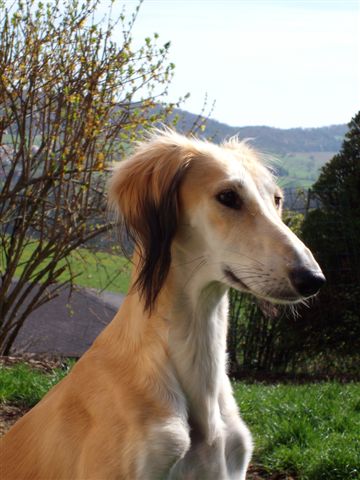 19-04-2008
Sachsenheim(DE)
Lehzael BOB puppy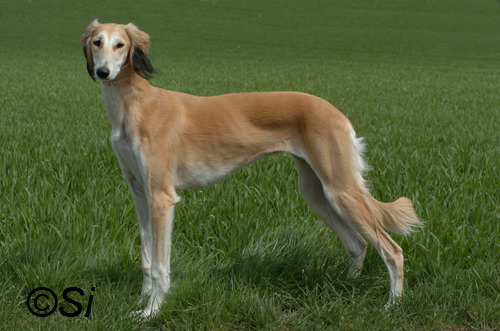 04-05-2008
Freiburg (DE)
Lehzael BOB and BIS 1 puppy
---
09-03-2008
Timrå (SE)
Xafhir BOB and BIS 2 puppy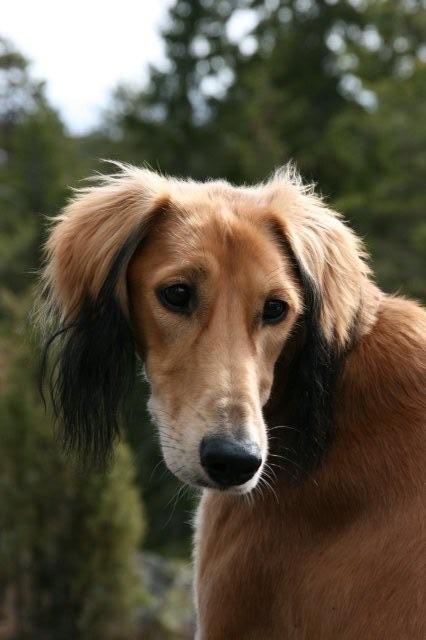 30-03-2008
Åuge (SE)
Xafhir BOB and BIS 1 puppy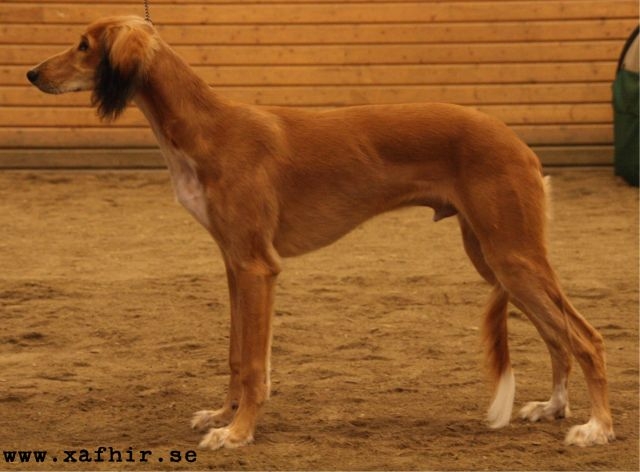 ---
01-02-2008
Some pictures of Galifa's puppies. The whole litter will be at shows very soon